Ande Cunningham
Birthdate
December 1, 1983
Birthplace
Australia
Character
Duro
IMDB profile
[view] • [talk]
Ande Cunningham is an actor who plays
Duro
 in
Spartacus: Blood and Sand
.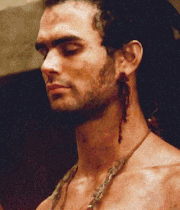 Personal life
Edit
Ande is a very private soul. He's performed several short pieces and is very artistically inclined.
During the Spartacus: Blood and Sand boot camp, he tore his biceps, making him walk around like a T-Rex for some time, since he couldn't straighten his arms.[1]
Ande likes the work of Hungarian film director Béla Tarr.[2]
He finds Australian spiders scary.[2]
He is somewhat active on Instagram.
Filmography
Edit
2006: The Bridge (short) - Niko
2009: Ipso facto (short) - The Artist
2010: Team Australia (short) - Richie (acting); producer.
2010: Spartacus: Blood and Sand (TV series) - Duro
2010: The Filmmaker (short) - Dude
2013: Home and Away, ep. 1.5672 (TV series) - Gavin MacIntosh
2013: Progeny (TV movie) - Dr. Henry Dakin
2013: Packed to the Rafters, s6e2 (TV series) - Marco
2013: Backyard Ashes - Harold
2013: I Want You (short)
2014: Raker (short) - writer, musician and director.
2014: The Animal Condition (documentary) - musician, producer, camera assistant, composer and sound recorder.
2015: True Crime: Venus and Mars (TV movie) - Brent Garner
2016: Oranges Don't Grow on Trees (short) - writer, musician, director and production designer.
2016: Bombshell - Fernando Pereira
2017: Picture Wheel (short) - co-producer
Ande Cunningham is a part of the production company Five Lip Films.
Cite error: <ref> tags exist, but no <references/> tag was found
Ad blocker interference detected!
Wikia is a free-to-use site that makes money from advertising. We have a modified experience for viewers using ad blockers

Wikia is not accessible if you've made further modifications. Remove the custom ad blocker rule(s) and the page will load as expected.