Barry Duffield
Birthdate
February 28, 1962
Birthplace
Billingham, United Kingdom
Character
Lugo
IMDB profile
[view] • [talk]
Barry Duffieldis an actor based in New Zealand. He plays the German warrior Lugo in Seasons two and three.
Personal Life
Edit
Duffield was born in February 28, 1962 in Billingham, U.K., and then immigrated to Australia in 1969. He works as a professional body builder.
Acting Career
Edit
Barrys acting career began in 1994 during his roles on Shortland Street, an on and off again job that lasted 15 years. During this time he also had roles on both "Xena warrior princess" and "Hercules the legendary journeys".
After leaving Shortland Street, Barry had two smaller roles in movies before his role as Lugo in Spartacus.
Since the ending of the show, Barry has continued to work in acting.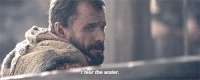 Ad blocker interference detected!
Wikia is a free-to-use site that makes money from advertising. We have a modified experience for viewers using ad blockers

Wikia is not accessible if you've made further modifications. Remove the custom ad blocker rule(s) and the page will load as expected.