Batiatus' Ludus
Comments

0
536pages on
this wiki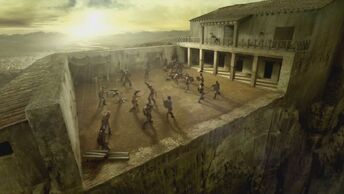 Batiatus' ludus is the enclosure for all of his gladiators, where they are trained and housed. It was passed on to him from his father, who was in the same profession. The ground level is a gladiator ludus whilst the upper levels are Batiatus' villa.
The building, being situated on the edge of a mountainside, boasts a brilliant view over all of Capua.
The lower parts of the ludus are the areas for the
gladiators
. The entrance gate is here, which leads directly onto a training ground. One edge of this square is unwalled and falls off to a sheer cliff. Beyond the training ground is the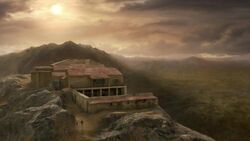 eating area for the gladiators, and on this floor are their cells/rooms (only the gladiators of higher worth are allowed rooms of their own). The trainee gladiators and others sleep with a few others in cells similar to those in a prison. There is also a bathing area on this level.
A barred gate separates the gladiators from the living quarters above the ludus, which house Batiatus, Lucretia and their slaves. The gate is locked every night when the gladiators are shut away for sleep. This upper area is far more lavish than the ludus below, befitting for a Roman citizen of moderate standing - and more, when Lucretia refurbishes to impress Ilithyia's rich friends. The house burrows into the mountain behind and has a balcony overlooking the gladiator training area.
From what has been seen of the Villa, there is a general social area with an ornamental pool in the center and leading off from this are various other rooms, including Batiatus' sleeping quarters and a large pool that serves as a bath.
Inhabitants
Edit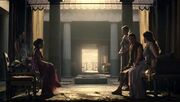 Owners
(in chronological order):
Long-term guests:
Servants & Guards:
Doctores:
Oenomaus (former gladiator) (escaped) (deceased)
Gladiators:
Other:
According to history, over 80 gladiators had escaped from the ludus of Batiatus, out of 200 gladiators.
Half of the gladiators in the ludus were Gauls.
Historically it is believed that Spartacus only spent one year of his life in this ludus. In the TV series, Spartacus spends two years of his life in the ludus.