The Battle Of Mount Garganus was a battle that takes place in Separate Paths, between Crixus and his army and Arrius and his legion.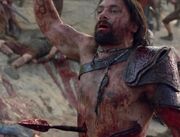 The battle happens a few miles from Rome. After Crixus addresses his army, they begin the battle by rolling ignited boulders down a hill towards the soldiers. The rebels run into the battle, destroying the whole Roman army but suffering many losses as well. Not much of the battle is shown but the Rebels become the victors. The Roman general Arrius is killed and his pendant is taken as a war trophy. Their Victory is short lived however, as Crassus and his army come straight from behind and cease another victory from the rebels, along with the life of Crixus.
Historical context
Edit
Historically, the battle was located near the Garganus Mountains in Apulia, the eastern end of the Italian mainland, and occurred in 72 BC, a year before Spartacus was defeated by Crassus.
Crixus and his army of 30,000 rebels were defeated in Apulia by consul Gellius Publicola (along with Arrius), and around 20,000 died in the battle, the remaining 10,000 escaping Apulia and making it back to Spartacus main army where they eventually faced Gellius and his co-consul Cornelius Lentulus.
The historic battle where Crixus was killed was in the Garganus mountains in Apulia. However, Arrius defeated Crixus in the battle.
Crixus actually had an army of 30,000, not 3000
Ad blocker interference detected!
Wikia is a free-to-use site that makes money from advertising. We have a modified experience for viewers using ad blockers

Wikia is not accessible if you've made further modifications. Remove the custom ad blocker rule(s) and the page will load as expected.