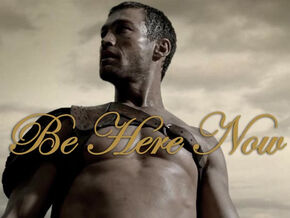 "Be Here Now
" is an upcoming feature documentary by Lilibet Foster, detailing actor
Andy Whitfield
's battle against Non-Hodgkins lymphoma. The film follows Andy throughout his journey as he explores both medical and alternative healing options in Australia, New Zealand and India. The film is being published to help and inspire others facing similar challenges, and also to hasten the pace of cancer research around the world. It is expected for an early 2013 release date.
About the film
Edit
"Be Here Now" is an inspiring feature documentary and love story, about the overnight sensation, actor and international sex symbol, Andy Whitfield, who put the same determination and dedication that he brought to his lead role in the hit television show, "Spartacus: Blood and Sand," into fighting life threatening cancer.​​​​​ This story is about Andy Whitfield – but it also about having the courage to make your dreams come true, tackling your fears and living in the present, despite the potential outcome. This film is for anyone who has ever faced a challenge in their lives.​​​​​​​​​​​​​​"[1]
References
Edit
↑ Anonymous, (2012). ABOUT THE FILM. Be Here Now. Retrieved January 3, 2013, from beherenowfilmcomingsoon.com/#!about1/c165g
Ad blocker interference detected!
Wikia is a free-to-use site that makes money from advertising. We have a modified experience for viewers using ad blockers

Wikia is not accessible if you've made further modifications. Remove the custom ad blocker rule(s) and the page will load as expected.