Fulco was a Gladiator in Batiatus' Ludus' and later a rebel under Spartacus' command.
Character Outline
Edit
Fulco has a larger, muscular build when compared than others and stands as a stronger warrior among the rebels. He wields a sword and shield in battle, which he can use for deadly purpose. He is friends with Donar and also possesses a confrontational personality seen from his taunting of the Gauls.
Gods of the Arena
Edit
Fulco is a background character who merely trains and socializes with the other gladiators of the ludus.
When Gannicus is granted freedom, Fulco and the other gladiators bid him farewell and see him out of the ludus before returning to their regular day of training.
Vengeance
Edit
Fulco is a minor rebel and tends to follow the order of Spartacus following their escape from the ludus. Generally taking Donar's lead he heads out with him on scouting missions and aids him in the training of other rebels.
After Agron leaves the group to enter Vesuvius, Lydon is among many of Spartacus' group to follow in Agron's wake.
He would return with Donar and Lydon to Spartacus later in helping find the temple at Vesuvius, which would later become the rebels' santuary.
He would take part in the mission to rescue
Crixus
,
Oenomaus
, and
Rhaskos
from the arena in Capua. With the other rebels, he would set the arena on fire, causing it to collapse and kill many Romans.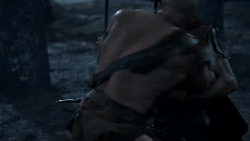 Throughout their time at the sanctuary, Fulco would continue to aid in the training of the others. Later, when the sanctuary is attacked by Romans, Fulco goes out with Crixus, Agron and Donar to engage Glaber's forces up close while Mira and her archers provide cover from afar. Despite cutting down many Romans, Fulco himself is killed, upsetting Donar and putting the rebels on the retreat back to the temple.
Fulco is played by New Zealand bodybuilder Nathan O'Hearn.
Fulco, along with Plenus and Lydon, appears in the prequel, but does not appear in season one.