Jenna Lind
is an Australian actress, best known for her role as the body slave
Kore
in
Spartacus: War of the Damned
.
Personal life
Edit
Jenna is a graduate of both N.I.D.A's Young Actors Studio and Western Australia Academy of Performing Arts (WAAPA, on top if these, she has also completed a Bachelor of Arts. While studying she preformed with the university dramatic society in roles for "Richard III" and ""The Caucasian Chalk Circle"[1]
Acting career
Edit
Jenna's acting career began in 2003 in a one time role in the TV series "Life Support",  Her first recurring role was in the true crime drama Underbelly, and her first movie role was in Crush, both in 2009.
She has several other roles that she has held up until her role as Kore, the body slave and lover or
Marcus Licinius Crassus
, the final antagonist of
Spartacus
during the
Third Servile War
.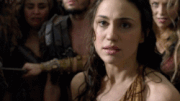 References
Edit