The Scottish actor John Hannah plays, the character of Batiatus in both Spartacus: Blood and Sand and Spartacus: Gods of the Arena.
Prior to deciding to become an actor, Hannah was an apprentice electrician for four years. He attended the Royal Scottish Academy of Music and Drama in Glasgow.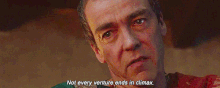 Hannah's big break came starring alongside a little known Hugh Grant in Four Weddings and a Funeral in 1994.
Besides his scene-stealing role in Spartacus, he is probably best known for his bumbling, cowardly portrayal of Jon Carnahan in The Mummy series with Brendan Fraser. Besides the above roles, Hannah has appeared in main as well as minor roles on a lot of TV shows in the UK as well as the US, among those being Rebus and Alias.
Ad blocker interference detected!
Wikia is a free-to-use site that makes money from advertising. We have a modified experience for viewers using ad blockers

Wikia is not accessible if you've made further modifications. Remove the custom ad blocker rule(s) and the page will load as expected.