Kleitos
is a gladiator of an unknown ludus. Though mentioned briefly in
Spartacus: Blood and Sand
, he appears exclusively in
Spartacus: Gods of the Arena
.
Character Outline
Edit
Scheduled to fight early in the day, he was presumably a gladiator of lower skill or ranking, though evidently skilled at fighting in two-man teams. Trained and equipped in the style of Hoplomachus, he carried the traditional Greek spear and round shield typical of the class.
Gods of the Arena
Edit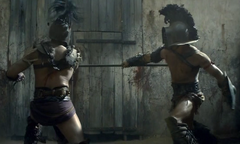 Kleitos is paired with Hasdrubal for a two-on-two bout against the Syrians Ashur and Dagan, of the House of Batiatus.
Initially engaging Ashur, Kleitos skillfully swapped places with his partner Hasdrubal to tackle Dagan instead. His tactic proved unwise, however, as Dagan was able to work his way under the Hoplomachus' spear reach and hack off his right arm, disarming him. Fallen to the ground, Kleitos was helpless to escape Dagan as he slashed repeatedly at the man's helmeted head and neck, until he succeeded in slashing his throat open, killing him.
Having defeated Kleitos, Dagan was then free to aid Ashur in slaying Hasdrubal, and thus win the bout.
Blood and Sand
Edit
When Ashur attempts to rejoin the Brotherhood as a gladiator, Batiatus is not in favour of the decision. Ashur lists the defeat of Kleitos among his triumphs in the arena, alongside the deaths of Hasdrubal and Kleitos. However, Batiatus dismisses all these 'victories' without regard, and proclaims Ashur's days in the arena to be over.
Ad blocker interference detected!
Wikia is a free-to-use site that makes money from advertising. We have a modified experience for viewers using ad blockers

Wikia is not accessible if you've made further modifications. Remove the custom ad blocker rule(s) and the page will load as expected.