Spartacus: Gods of the Arena
Comments

0
553pages on
this wiki
Redirected from Prequel
For the Prequel episode list, see List of Episodes in Prequel.

Spartacus: Gods of the Arena is the second installment in the Spartacus series, and the six episode prequel to Blood and Sand. It premiered on January 21, 2011 on Starz. As season two had to be delayed due to Andy Whitfield's treatment for non-Hodgkin lymphoma, a prequel to the series was planned to fill in the time until September, when season two was scheduled to begin filming.[1] The story centers around Batiatus and Lucretia and the rise of the House of Batiatus prior to Spartacus' arrival, seeing returns from many of the gladiators as well, including Doctore, Crixus and Barca amongst others.[2] The show introduces the gladiator Gannicus, and his rise to fame under Batiatus' hand. It concluded on February 25, 2011.
Cast and characters
Edit
Gladiators of the House of Batiatus
Edit
Slaves of the House of Batiatus
Edit
Gladiators of the House of Vettius
Edit
Joel Oliver as Caburus - a viscious and powerful gladiator from east of the Rhine. He serves as the Champion of the House of Vettius.
Winham Hammond as Otho - a German gladiator of moderate skill and rival of Gannicus.
Episode List
Edit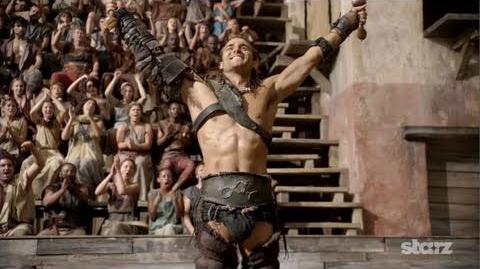 References
Edit
↑ Worldscreen: Starz Preps Spartacus Prequel: http://www.worldscreen.com/articles/display/25523