Raicho Vasilev
Birthdate
September 17, 1975
Birthplace
Smolian, Bulgaria
Character
Caratacus

Unknown edit
[view] • [talk]
Raicho Vasilev is a stunt double and actor who plays several roles in Gods of the Arena and Blood and Sand. After this, he remained as a stunt double for Liam McIntyre.
Personal life
Edit
Raicho was born in Bulgaria. He began his career as a stunt double in 1999 in the movie "Delta Force".
Acting and Stunts career
Edit
Raicho mainly works in stunts, both in performing them and co-ordinating them. When he is not doing that, he often plays smaller roles in movies and TV shows.
He is best known for his role as
Gnaeus
, a slave in
Batiatus' Ludus
. Besides that, he also played smaller roles as
Ixion
,and
Caratacus
. Raicho also played a gladiator named Comodus in the 2004 Spartacus miniseries.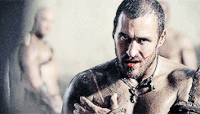 Ad blocker interference detected!
Wikia is a free-to-use site that makes money from advertising. We have a modified experience for viewers using ad blockers

Wikia is not accessible if you've made further modifications. Remove the custom ad blocker rule(s) and the page will load as expected.