Sextus is a Roman magistrate of high social standing.
Character Outline
Edit
In Spartacus: Blood and Sand, Sextus is a former Roman magistrate and husband to Aemilia. Batiatus hoped that he would be a patron to the ludus, and that he would lift them to higher standing.
Sextus is present in the pulvinus along with Batiatus, Lucretia, Varus, Cossutius and Solonius at the opening day of the new arena, where he demanded execution before the games began, where Diona was executed.
Gods of the Arena
Edit
Sextus was a magistrate during the times of the construction of the new arena. He seemed to be somewhat considerate, as when he offered to release Diona from her execution in the new arena, before Batiatus refused the offer. He and Solonius are responsible for the freedom of Gannicus.
Blood and Sand
Edit
During the celebration fight between
Crixus
and Spartacus, Sextus sits with host Batiatus on the ludus balcony. At the peak of the fight, however, Spartacus lunges into the air (with the help of Crixus), in an attempt to assassinate Batiatus. Without hesitation, Batiatus grabs Sextus and uses him as a human shield.
Spartacus
' sword plunges right through Sextus' head, killing him instantly.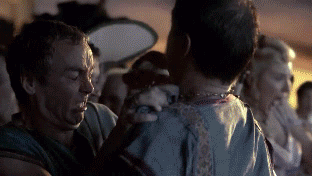 Vengeance
Edit
His two cousins, Seppius and Seppia, were very grieved by his death, and wanted vengeance against Spartacus and his rebels.[1]
In Latin, `Sextus´ literally means `the sixth´.[2] In ancient Rome, it was common practice for parents to give their sons a number as a name. 'Sextus' was one of the ten most common Roman personal names.
Sextus can be seen as the first casualty of Spartacus and his rebellion.
Sextus, as a member of the Capuan elite, would have held the status of one of the Curiales/Decuriones, town councillors of the Roman Republic.
As a local magistrate in Capua, Sextus would have either been an Aedile or one half of the Duumviri (rule of two), the mayors of the city.
As a cousin to both Seppius and Seppia, Sextus may have been a member of the Gens Seppia himself, unless his relation was through the maternal line.
"You can always train another gladiator."
"Glory to Capua, GLORY TO ROME!"
References
Edit
↑ Spartacus: Blood and Sand Season 1; Episode 13