For the category list, see Slaves.
Slaves were persons owned by another, working entirely for the benefit of their owners and sustained only by such food, clothing, and shelter as their owners provided them. Slaves were legally property, and could be punished or even killed by their owners without consequence. Slaves in the
Roman Republic
often constituted half of the populations in the cities, and became the primary source of manual labor, displacing the small farmers and workers who had previously provided such labor. As Rome expanded, new slaves were acquired primarily as prisoners of war, but also by slave mating, or by abduction and sale by pirates, most notably the
Cilician Pirates
.
Roman slaves served a Dominus, Domina, or both. The Latin word for slave was servus, and a revolt of slaves requiring military force to repress was called a servile war. The revolt of Spartacus and the gladiators and other slaves who followed him was the third such uprising in the history of the Roman Republic, and was known as the Third Servile War.
Special Types of Slave
Edit
Body Slave
Edit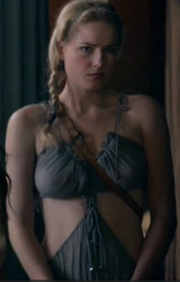 The personal attendant to a Dominus or Domina. They attend their masters wherever they go. Usually a female slave would belong to a Domina while male slaves attend a Dominus (though there are a few exceptions: Marcus Crassus has a female body slave named Kore).
For example: Santos is Batiatus' body slave, having held the same position with his father Titus previously, while Melitta and then Naevia serve as Lucretia's personal body slaves. Ilithyia - being wealthy - has several body slaves, while Nasir served as body slave to an unnamed dominus.
Some body slaves typically enjoy a "closer" relationship with their immediate master/mistress than other household slaves; Naevia had an almost "daughter-mother" relationship with Lucretia, while Thessela was clearly well-liked and trusted by Ilithyia.
Gladiator
Edit
An indentured fighter. Gladiatorial games were very popular in the Roman Republic (and later, the Roman Empire), only second to chariot racing. See Gladiator for more information and specific examples.
Notable Examples
Edit