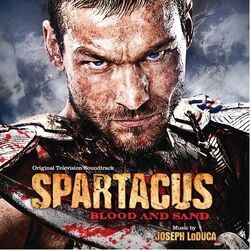 The Spartacus: Blood and Sand Soundtrack was released by Varese Sarabande on September 28, 2010. It features 42 tracks composed by Joseph LoDuca for Spartacus: Blood and Sand.
Track Listing
Edit
Six Against One
Leaving Sura
Off To War
Thracians Brave
Sura Ambushed
Village Burned
No Life Without You
Sura Abducted
Orgy
Cena Libera
Thumbs Up
Tuck & Roll
Training
Ludus Envy
Rematch
Dominus
In The Arena
We Are Gladiators
Barker's Legend
Transporting Spartacus
Losing Mind
Doctore's Legend
Theocoles
Rain At Last
Arse A Bit
Going Off
Barca Betrayed
Reunion Imminent/Tragic Reunion
I Am Spartacus
Batti On A Roll
Statue
Demonstration
Always A Choice
Different Sword
Proving Legend
No More Mr. Nice Guy
Pale Shadow Of Love
Crixus Fading
Crixus Revenge
Batti's End
Blood Demands Blood
Spartacus End Titles
Ad blocker interference detected!
Wikia is a free-to-use site that makes money from advertising. We have a modified experience for viewers using ad blockers

Wikia is not accessible if you've made further modifications. Remove the custom ad blocker rule(s) and the page will load as expected.