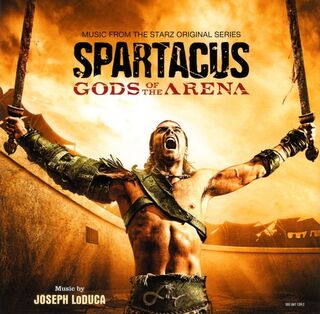 The Spartacus: Gods of the Arena Soundtrack was released by Varese Sarabande on May 24, 2011. It features music written by Joseph LoDuca for Spartacus: Gods of the Arena.
Track Listing
Edit
Team Batiatus 

Rules of Combat 

Diona's End 

Snuff Montage 

Fill Her Eyes 

Free Man 

Eyes Firmly Fixed 

Proper Reward

Gannicus 

An End to Sulking 

Blind Sided 

An Offer Refused 

Long Shadow 

Gaia's Guile 

Gannicus vs Crixus

The Doctore Is Out 

Bati in 'Da House 

A Man So Blessed 

Primus Lost 

Senior Moment

Auctus Exhibition

Marked Man

Brother Crixus 

New Capua Nets 

Sisters

House of Delights

A Deeper Lie

Masquerade 

Titus Ultimatum

Down for You

A Serpent Far Worse

Poison 

Titus Pyre 
Ad blocker interference detected!
Wikia is a free-to-use site that makes money from advertising. We have a modified experience for viewers using ad blockers

Wikia is not accessible if you've made further modifications. Remove the custom ad blocker rule(s) and the page will load as expected.