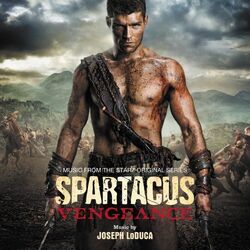 The Spartacus: Vengeance Soundtrack was released by Varese Sarabande on March 27, 2012. It features music written by Joseph LoDuca for Spartacus: Vengeance.
Track Listing

Edit
Retreat 

Is Capua Burning 

Steel Nerve 

Syrian Lesson

Lifting Curse 

Healing Wounds 

Forever Loved 

By Your Side

Overjoyed 

Aurelia Dies 

Hymn To Venus 

Ashur's Gift 

Finding Naevia 

Mine Fight 

He Comes 

Nothing is Forgiven 

Night Forest Battle 

Ashur's Last Stand 

As Promised 

Slaves No More 

Fight Party 

Mad Lucretia 

Broken Waters

Mercato Displays

Crixus In The Mix 

The Greatest Cause Of All 

Found Their End 

Experienced Hands 

Purchasing Silence 

He Has Fallen 

What Dawn Brings
Ad blocker interference detected!
Wikia is a free-to-use site that makes money from advertising. We have a modified experience for viewers using ad blockers

Wikia is not accessible if you've made further modifications. Remove the custom ad blocker rule(s) and the page will load as expected.