Home
Talk

8
555pages on
this wiki
Poll of the Week
Are you hoping to see a spin off of Spartacus?
User Blogs
Greetings everyone! Hope you are all well.

I've done probably my hundreth Spartacus marathon, and was curious on a certain "what-if scenario". This one being that of what if Oenomaus had survived and …

Read more >
Featured Quiz
Featured Article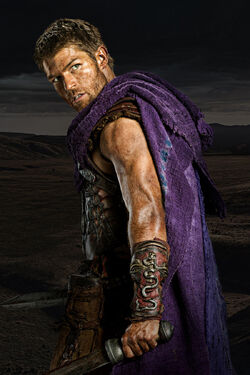 Spartacus (real name unknown) is a Thracian warrior who became a famous Gladiator in the Arena, later to build a legend upon himself. During the first season, he served as a gladiator in Batiatus' Ludus but by the end of the season, he and many of the gladiators broke free from captivity. Throughout the next season, he leads the rebels to victory after victory, defeating the likes of Glaber, Cossinius and Furius. He eventually comes up against Crassus and his legions, during the third season, and the fate of his rebel army is decided.
Latest Episode
The Spartacus Saga: Uncut
From Batiatus' early lanista days and Gannicus becoming a god, through to Spartacus joining the gladiators and starting a rebellion, leading to the rise of an army and the fall of Glaber, ending in a city of rebels and their loss to Crassus.
The Spartacus Saga: Uncut gives you the chance to watch all four brilliant seasons of Spartacus, that's over 39 whole hours, filled with even more sex, blood and violence.
From October 26th, once again join the rebel army and TOGETHER WE SHALL SEE ROME TREMBLE!
Content Ratings
| | |
| --- | --- |
| Rating | TV-MA |
| AC | Adult Content |
| AL | Adult Language |
| GV | Graphic Violence |
| N | Nudity |
| SC | Strong Sexual Content |