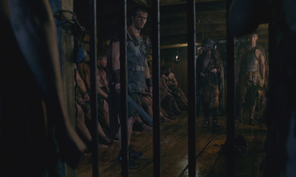 The Germans
are a group of former prisoners - both male and female - rescued by
Spartacus
and recruited into his
rebel army
.
Boisterous and rowdy, they initially showed little loyalty to Spartacus, showing only friendship to their fellow countryman Agron. However, after their leader Sedullus is killed by Spartacus during a brawl between the original rebels and the German newcomers, they swear loyalty to his cause and leadership, and become the backbone of his growing army after most of the gladiators from Batiatus' Ludus are killed.
Ad blocker interference detected!
Wikia is a free-to-use site that makes money from advertising. We have a modified experience for viewers using ad blockers

Wikia is not accessible if you've made further modifications. Remove the custom ad blocker rule(s) and the page will load as expected.