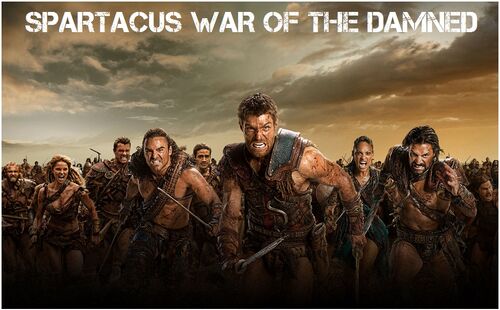 Hey Spartans,
Just wanted to alert you all to an awesome opportunity going on right now to own a piece of the epic Spartacus TV phenomenon. Here's the skinny:
To commemorate "Spartacus: War of the Damned," the final season of the global smash series, STARZ has partnered with ViP Fan Auctions to offer an opportunity to own original props, sets, costumes and collector's artifacts from the entire series.
The auctions is currently open, with new items will be offered every week at ViP Fan Auctions; Spartacus. Since the launch, the auctions has generated an estimated 2.75 MM digital impressions through social media, fan sites, online promotions and eBay. Fan reaction has been incredibly enthusiastic and a tribute to the collectible nature of the Spartacus auction items. As a result, the Spartacus auction is expected to culminate as one of the premiere online television auctions to date. Spartacus has one of the most ravenous fan bases of any show on television," says Carmi Zlotnik, Managing Director of STARZ. "Over the years we have had countless inquiries about owning a piece of the show. We decided to partner with ViP so those who love the series have something very special to remember it by." "The Spartacus Auctions will provide fans from around the world with a once in a lifetime opportunity to preserve a piece of television history," said VIP's Managing Partner, Mark Kaminky. "With new items offered every week, fans will have an ongoing opportunity to view and bid on key items from this ground breaking television series."
So, follow the link above and grab a piece of Spartacus TV history while it's still available. And of course, enjoy the final season of Spartacus: War of the Damned!
Ad blocker interference detected!
Wikia is a free-to-use site that makes money from advertising. We have a modified experience for viewers using ad blockers

Wikia is not accessible if you've made further modifications. Remove the custom ad blocker rule(s) and the page will load as expected.