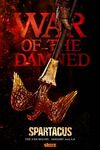 Alas, soon Spartacus will be airing its final season. But if Fourth of July fireworks taught us anything, nothing's better than a good finale! We're sure to see lots of fighting, nudity, gore, drama, violence and all of the other stuff that makes Spartacus such a great show.
Spartacus: War Of The Damned is currently in production in New Zealand and takes place after the defeat of Gaius Claudius Glaber. Tentatively, the season is set to air January 2013.
For an insider sneak peak at the final season, watch the video below!
Ad blocker interference detected!
Wikia is a free-to-use site that makes money from advertising. We have a modified experience for viewers using ad blockers

Wikia is not accessible if you've made further modifications. Remove the custom ad blocker rule(s) and the page will load as expected.