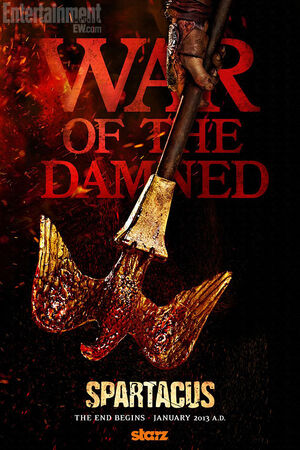 The upcoming third season of Spartacus, entitled Spartacus: War of the Damned, will be the last season of the show.
"We did not come to this decision lightly," said creator and executive producer Steven S. DeKnight. "It was an extremely difficult and emotional decision for my partners and I. Yet, in the end, the story was best served by rolling all of the remaining action and drama of Spartacus' journey into one stunningly epic season that will be extremely satisfying for everyone who's been along for the ride."
The final season will air in January of 2013. It will center around Spartacus' rebellion following the defeat of Gaius Claudius Glaber.
What do you think? Will you miss the show, or do you think it's time for it to conclude? Let us know what you think below!
---
---
Ad blocker interference detected!
Wikia is a free-to-use site that makes money from advertising. We have a modified experience for viewers using ad blockers

Wikia is not accessible if you've made further modifications. Remove the custom ad blocker rule(s) and the page will load as expected.